Studs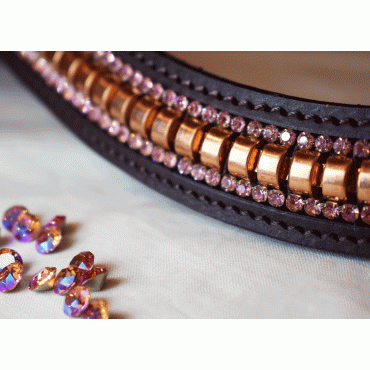 The Studs line was created for those who do not want to overdo it, but still want to stand out from the usual opaque and inconspicuous browbands. The crystals are sewn directly onto the leather and their luster is balanced by the studs.
They are models suitable for any discipline.
---
Protect your browband with ease with our new covers. This cover is made of soft felt, so they do not get caught in the crystals. The velcro allows to protect the faceplate even when it is mounted on the headboard.The Browband Cover protects the browband from moisture, light and dust.Use it to protect your browband, keeping it shiny and shiny for all competit..
11.00€
Light Rose Caprice-Studs is a new model (2021). It is composed of the following crystals:- first and third row: Light Rose crystals- middle row: antique pink studsThe model is recommended for Knights and Amazons who love the combination of elegance and simplicity. Recommended for those who do not like opulence.One thing is certain: it is impossible not to be..
55.00€
Showing 1 to 3 of 3 (1 Pages)